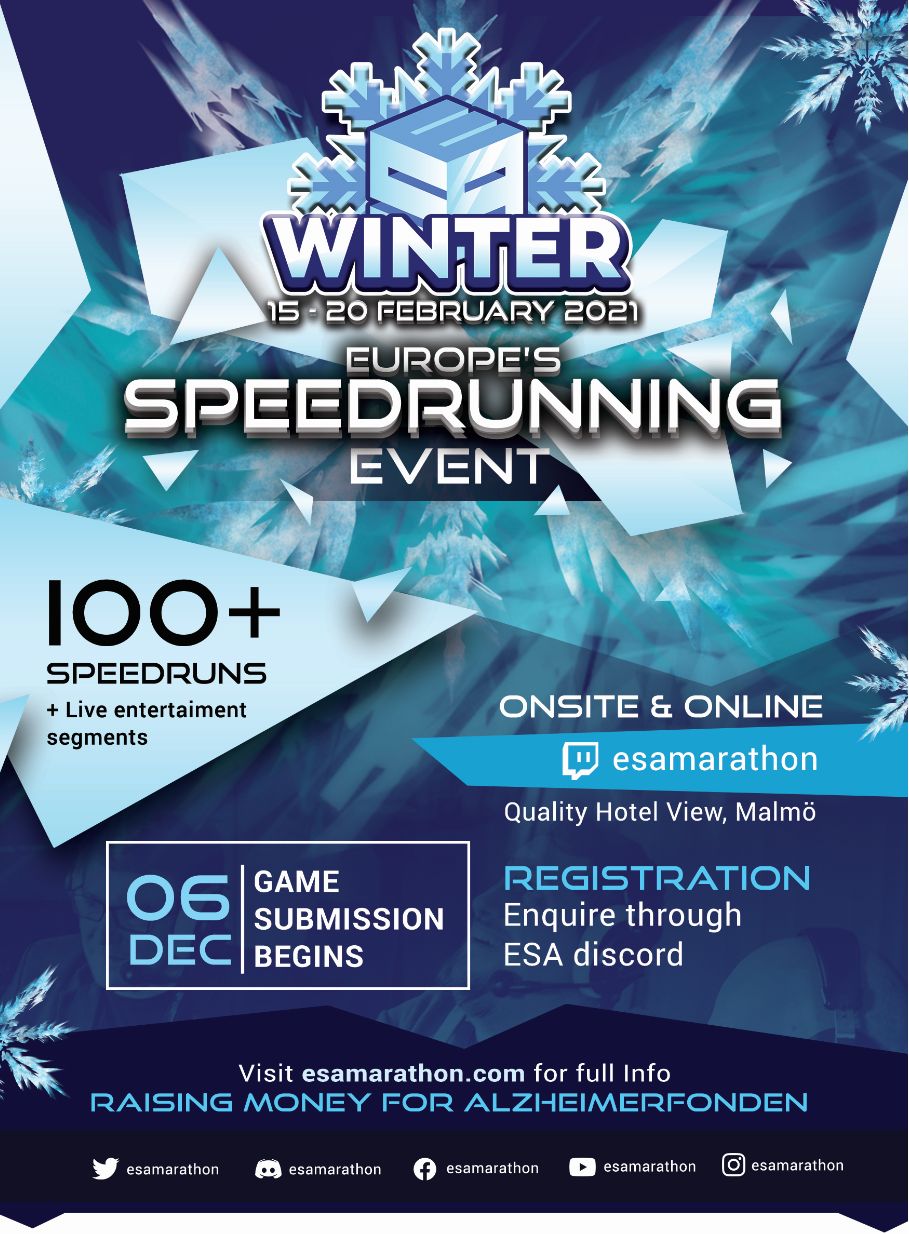 ESA Winter 2021
February 12, 2021 @ 4:00 pm

-

February 21, 2021 @ 4:00 am

CET
ESA Winter 2021 is a week-long online marathon that will feature speedrunners and score-attackers from all around the world with the primary goal of raising money for charity.
Schedule
The ESA Winter 2021 schedule has been released and can be found on the schedule tab
Online event
Shortly before submissions went live ESA announced that ESA Winter 2021 will be online-only. For more details, please read the announcement – ESA Winter 2021 – Moving all online
Charity
ESA Winter 2021 will support Alzheimerfonden. The Swedish Alzheimer's Foundation supports all types of research on Alzheimer's and other dementia diseases. Applications for grants are assessed according to scientific quality. The goal of the Council's work is to get maximum dividends on the research money for affected patients and their relatives.
Key Dates
Submission Phase: December 6th (1800 CET) – December 20th (including)
Schedule Release: January 17th
Event Dates: February 12th – February 21st
Submission Guidelines
There will be a limit of five submissions per runner. This includes different categories. You can find the submission form at https://submissions.esamarathon.com/
We will no longer to be able to feature music games and games that make use of licensed music, unless it can be completely muted / removed from the showcase. If you have experienced Content ID claims for music in videos of your submitted game(s) on YouTube, please let us know in the comment.
Even though there are not many changes compared to our online events in 2020, please make sure to read the guidelines to guarantee that your submission is valid. This is especially true if you plan on submitting a race.
The following conditions apply:
Runners should be able to stream to Twitch at a bitrate of at least 2.5 Mbit. Depending on your game and resolution you might be able to get away with less. Submit your video and let us be the judge!
Runners must use a face camera for their run during the marathon. This is to maintain the high production standard we set for all our flagship marathons, and no exceptions will be made. With programs like iVCam, your phone can easily be used for this purpose.
Races may be permitted if they fulfill the following criteria:

The race must be between not more than two players.
Both runners must fulfill the above stated quality requirement and use a face camera.
The submission must include at least one dedicated commentator. Runners may still be able to talk on stream, but we believe that a commentator able to keep track of both player's progress is important to make the race clear and entertaining for viewers at home.

Co-Op may be permitted if they fulfill the following criteria:

If taking place entirely online the showcase might not include more than two players. If players meet up in person for the purpose of the showcase, more than two players may be permitted. However, please don't jeopardize your own as well as your fellow humans' health by travelling long distances to meet up.
Runners must fulfill the above stated quality requirement and use a face camera.

If you want to bring along a co-commentator via Discord, feel free to do so!
When submitting your game you will be asked to provide a short description about the game as well as the run/showcase/exhibition, a video showcasing it as well as information about your personal progress. Make sure that this video also meets the specifications listed above!
Bonus points for submitting a video with marathon-like commentary!
Please state your availability during the event as clearly as possible (preferably in CET) in your submission comment. Keep in mind that very short availability windows can cause massive headaches for us when creating the schedule and we may have to reject runs because of this. We will do our best to consider all the different time zones when creating the schedule.
For more information about the submission form, our guidelines and our philosophy, please refer to the Game Submission Info page.
Event Sponsors