Break the Record: ONLINE – Spelunky 2
January 15, 2021
@
1:00 pm
–
January 18, 2021
@
3:00 am
CET
This event has concluded. Final standings may be found in this announcement.
The Contest
Break the Record: LIVE is an exciting competitive speedrunning competition featuring speedrunners facing off against each other to set the best time over a weekend.
In January 2021 Break the Record: LIVE will be visiting the exciting and dangerous world of Spelunky 2 with a special three day invitational event featuring two categories of runs.

Day 1 will feature All Shortcuts + Tiamat speedruns. At around 20 minutes this will be the shortest category we've ever featured on BTRL and is high risk, so expect lots of resets, lots of drama, and lots of changes on the leader board.
Day 2 and 3 will feature Cosmic Ocean runs. This mysterious optional quest extends the main game from 22 levels to 116 levels and can take anything from one hour with the riskiest strategies to four when played safe. Even then, completion is not guaranteed, with the player having to remain fully focused in the face of this huge endurance test. Per the community leaderboards, runners will be ranked first on depth with time used as a tiebreaker. A player who dies on level 7-39 will rank above a player who dies on level 7-38, no matter how fast they got there!
The Prize
Spelunky 2 developer Mossmouth has kindly offered the following prize pools for the event
All Shortcuts + Tiamat
15 January 2021
Cosmic Ocean
16-17 January 2021
Total
$3,000
$5,000
1st
$1,000
$1,500
2nd
$700
$1,000
3rd
$400
$700
4th
$300
$600
5th
$250
$500
6th
$200
$400
7th
$150
$300
The Players
All Shortcuts + Tiamat
Cosmic Ocean
Event Flyer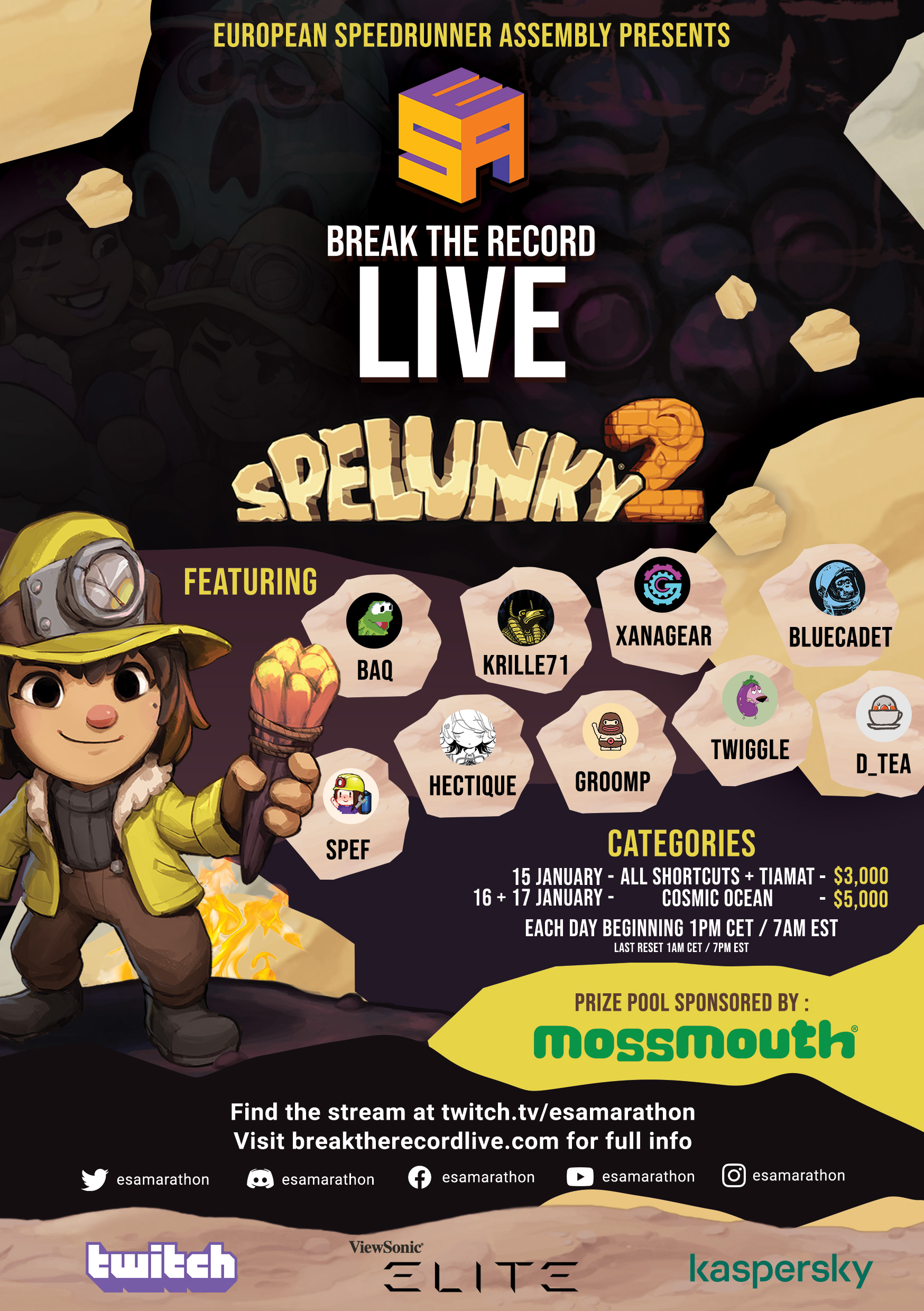 Event Sponsors




European Speedrunner Assembly