Break the Record: ONLINE – Dark Souls
December 4
@
1:00 pm
–
December 7
@
3:00 am
CET
How to watch
First run is approx. 1300CET every day. Cut-off for last reset is 12 hours later at 0100CET.
The event stream will be located at http://twitch.tv/esamarathon
Category
Prize pool sponsored by Kaspersky
1st: $1,500
2nd: $1,000
3rd: $700
4th: $600
5th: $500
6th: $400
7th: $300
Qualifiers
The world record at the start of the event was 1h 02m 34s set by Catalyst, his qualifying time.
Entry Requirements
In cooperation with SpeedSouls, this event held open qualifiers running between between 28 October and 28 November.
You must record and submit a new time to the BTRL leaderboard on speedrun.com.
The 7 best people on the leaderboard by the end of the qualifier period will be, after verification and screening, be invited to enter event. In the event of there being less than 7 qualifying runs, the prize pool will be redistributed upwards.
Runs eligible for submissions must follow all usual run rules, and must have been achieved in the time period between the 1st October 2020 and the 28th November 2020 (dates are inclusive). This means only runs performed one month prior to the qualifier und runs performed during the qualifier period are eligible for submission.
Discord
You are encouraged to join the SpeedSouls Discord if you have any questions on game strategy, require technical help, and to talk about the event. BTRL specific questions should be directed to #event
Participation requirements
This event has no travel requirement, both qualification and event day will be played from home
ESA will provide a special OBS BTRL layout bundle and BTRL livesplit plugin that must be installed for event day.
There is an expectation of streaming 6-7 hours per day
First run is approx 1300CET every day. Cut-off for last reset is 12 hours later at 0100CET.
Time will be measured usiing In Game Time, measured via the Dark Souls In-Game Time LiveSplit Plugin
On event day, it is mandatory to stream with a webcam.
Stream quality requirements apply to event day

Minimum: 480p, 30fps, 1.5Mb bitrate
Desired: 720p, 60fps, 6Mb bitrate

The stream that ESA captures must include game sound only. If desired, with a dual OBS setup you can stream to an alt with game feed only, maintaining a microphone on your main
The event stream will be located at http://twitch.tv/esamarathon
Event Flyer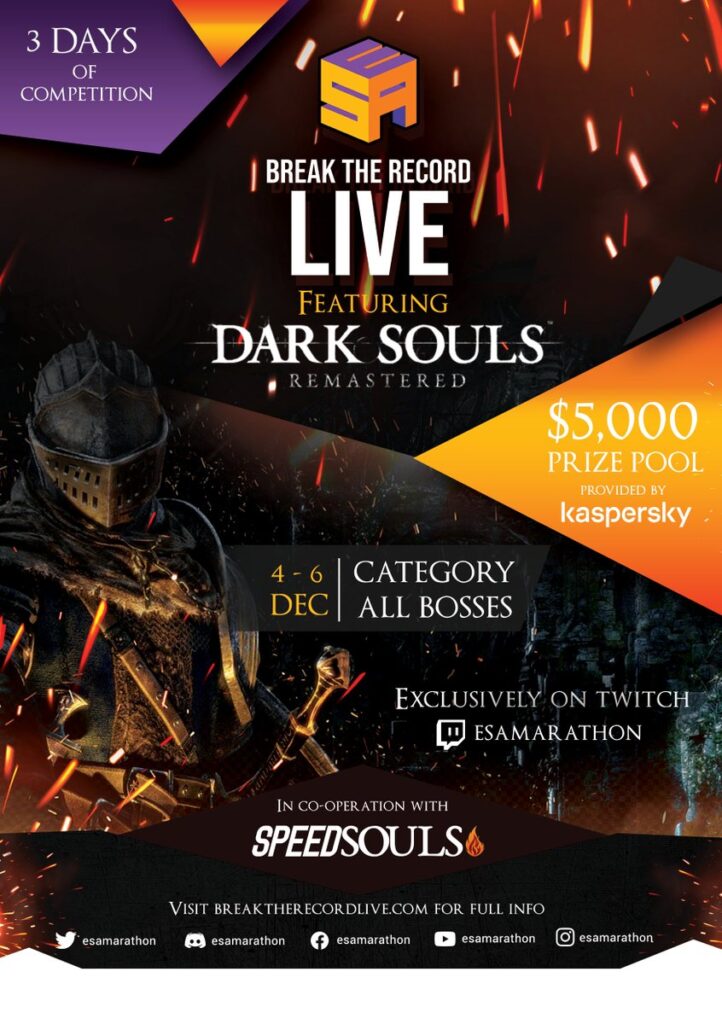 European Speedrunner Assembly
Share This Story, Choose Your Platform!