BTRL PARTICIPANT GUIDE
ONLINE EVENTS
Version 1.2 – April 2021
Congratulations on being invited to take part in a Break the Record: LIVE event. This guide will outline some of the basic frequently asked questions about how the event operates and how you will be a part of it
Basic format
Speedrunners at Break the Record: LIVE are competing of the course of 1, 2 or 3 days to win a prize pool. Every place pays out some prize money. For the exact breakdown, please see the relevant BTRL event page on this website.
The primary goal of the event is to complete the fastest run on event day(s). For some events there may be an additional prize attached to world record.
The standard event format (which may vary slightly) is as follows.
The window to begin new runs is 1300 to 0100 CET or CEST (Stockholm). After 0100, runs in progress may be completed but no new runs may be began. The broadcast ends after the final runner completes or resets.
On the first day all available participants will gather for a no reset race at 1300. This gets everyone a time on the leaderboard to work towards improving. Any participants who can not take part are expected to no-reset their first run when they join later. On subsequent days while the first run is unofficially a race, it is not no-reset.
During the event day runners are asked to be present for at least six hours. Anyone who will not be present at 1300 is requested to let production know in advance when their estimated first run will take place.
Once runs are in progress runners may reset or take a break any time. Runners should inform production if they are taking a longer break so the casters can be briefed.
Community Casters
At each BTRL we have three hosts whose job it is to maintain the flow of the broadcast. These are complimented by community casters who are experts in their game but not necessarily experienced in commentating. These casters will be recruited from each game's community as a part of the event lead up.
Community casters will be asked to submit their availablilty to the host team, who will make a schedule 7 days before the event. The commitment can be as little as 1 hour, up to multiple hours each day.
Community casters do not require cameras and will not be asked to appear on camera at any point.
Runner Quality Requirements
Desired settings: 1920×1080, 6000Kbps bitrate, 60fps (1080p60)
Absolute minimum settings: 854×480, 1500Kbps video bitrate, 20fps (480p20)
A webcam is required, no exceptions
If your bitrate is below 4500, we would prefer 720p 60fps over 1080p 30fps
If know your game is 30fps or below, please stream at only 30fps
Please experiment to find what is the maximum you can achieve without dropping frames and talk with production if you need a second opinion.
We require a webcam to humanise the event. In the absence of webcams the event would be simply seven identical gameplay feeds. This would leave the casters and viewers at home completely disconnected from the emotion of critical moments such as taking the world record.
Streaming and OBS
ESA will provide the following elements in an archive. All must be used per instructions
OBS layout
Livesplit layout
Livesplit plugin
For the production ESA requires runners to stream with a webcam and game sound only. Any runners invited to be interviewed will join via separate VOIP.
If you want to stream as normal to your own channel (with mic), you can set up a second copy of OBS to stream an alt account for ESA. This requires quite a powerful PC.
We also have a guide to audio splitting prepared which gives instructions on how to set up a voice call without it going to stream. This isn't particularly resource intensive.
Please make sure nothing overlaps the game or camera feeds. The splits, including the "BTRL server bar" must remain fully visible for verification.
Please make sure that you local record your runs in case of internet outages and also have past broadcast saving enabled on twitch so you can create and export highlights of personal bests or other key moments.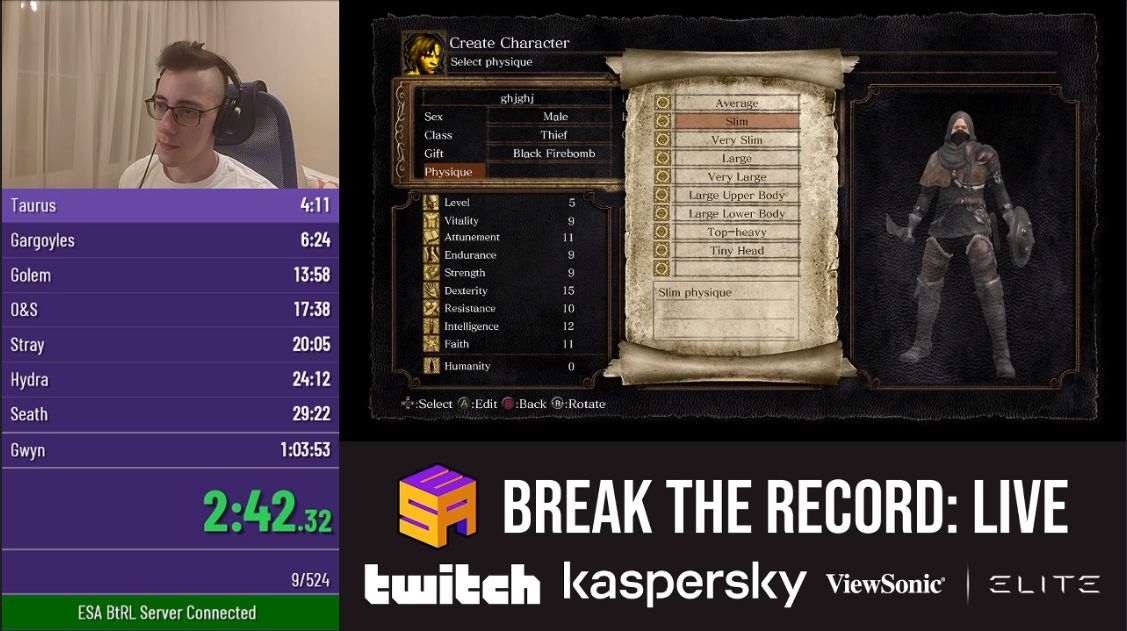 Livesplit
ESA uses a special livesplit plugin to relay your split data live to our graphics server. Settings for this will be provided along with the download.
This plugin is available for Windows 10 only. If you use anything else, please upgrade or set up dual-booting prior to taking part in the event.
Notifications and Alerts
Do not include any alerts on the stream such as new followers, subscribers, cheers and donations.
Please mute all windows desktop alerts and VOIP alerts.
If you're playing on Steam, make sure to disable the in-game notifications as well.
CONTACT US
If you have any technical questions, please contact Planks or Zoton2 on the BTRL discord server.