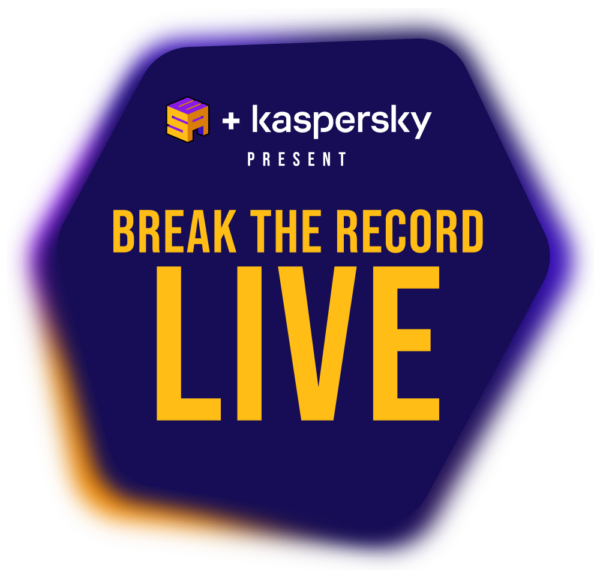 ESA x Kaspersky presents
Break the Record: LIVE
26 July 2020 – 10AM CEST
The seven best DOOM Eternal speedrunners in the world face off competing for an $8,000 prize pool
DOOM: Eternal is 2020's premiere first person shooter. Building on the successful reboot of DOOM in 2016, Eternal invites the player to conquer a new generation of demons and discover the story of the slayer.
The Category – No Major Glitches
No Major Glitches removes out of bounds, clipping and zipping. In cooperation with the DOOM community ESA has chosen this category to focus on the most exciting elements of FPS gameplay – optimised movement, perfect fighting and insane weapon control.
The only goal for this special edition of Break the Record: LIVE is to set the best time on the day. As the category is so young, it is almost certain that the record will be broken on the day!
Kaspersky has boosted the prize pool and now everyone is taking home a prize
1st
– $3,250 /

2nd

– $2000 /

3rd

– $1000 /

4th

– $750 /

5th

– $500 /

6th

– $250 /

7th

– $250
As winner of the qualifer BOWSR has already locked in extra $2,500 bounty and become the Kaspersky Flag Carrier, the standard bearer for the event and ultimate rival for all others to beat on the day of the competition.
In the same way that the Olympics turned athletics into a competitive spectacle, ESA's Break The Record Live transforms a traditionally non-competitive pursuit into a highly entertaining and viewable live action spectacle, bringing in fresh audiences and rewarding the existing community with something new and exciting.
We're so excited about the partnership with ESA, and keen to help Edenal, Planks and the wider ESA team develop this format. In some ways competitive speedrunning is the future of the sport, so it's just awesome to be able to get involved from an early stage, work with the community, and do our bit to help grow it and raise it's profile.